1956 Cadillac & 1953 Dodge
Serious Cadi Surgery - Operation: Sucessful
Please Keep In Mind, That We Only Work On These Projects When We Have Spare Time Left Or When We Just Feel Like It. These Are Our Private Projects!
We bought the 1956 Cadillac in May '03 and by November '03 the transformation slowly began ...
Plan A was to chop and lower this 4-door sedan and keep it suttle. We modified that plan slightly and decided to have a removable hardtop. Well, after we cut the roof off and were preparing to strip all unneccessary accessories and steel, and constantly driving this big thing around without a roof, Jim switched to ...
Plan B: ditching the 4 doors, shortening the length by 17" and converting it into a two door removable hardtop.
If you know Jim personally, you know that this was not his "final answer"!!
Plan C ??: after getting soaked several times after attending local cruise-ins with our "work-of-art", Jim decided to make it a true convertible instead. Currently we are in the process of mounting and modifying a convertible top frame to fit the Cadillac.
UPDATE: January 2009 - As you can see, we yanked that 53 year old motor and tranny out of her! We are smoothing out her firewall and repairing and replacing all necessary components, such as updating the steering and the brakes.
March 10, 2009 - as of today, the Cadi has a new heart - we dropped a newer 500 motor and transmission in her empty cavity!
July 24, 2009 - both front fenders and the hood are newly painted and mounted.
Come back and visit our site often and see the progress unfold before your very own eyes!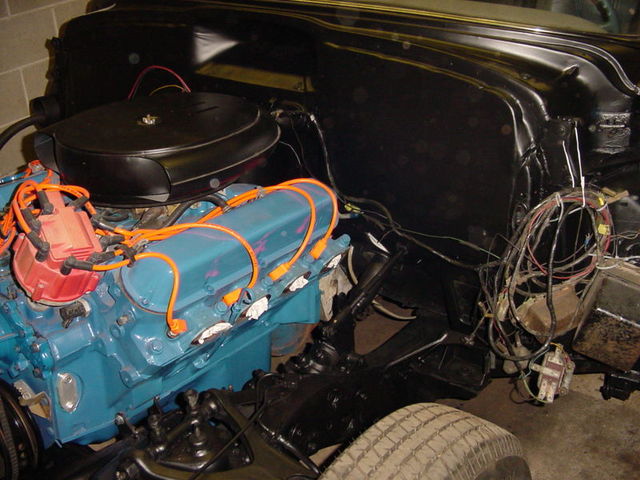 1953 Dodge

This baby is next in line. We purchased this 1953 Dodge in July '04 and sooner than later, she will become a victim too!
Visit the Photo Pages and check out our rides!!!
Be sure to come back and visit our site for all the latest news about our projects!!